Posted on 03 November, 2017
Tonicka Kombucha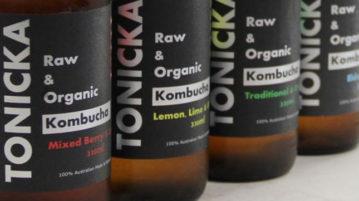 What is Kombucha you ask?
Kombucha is a fermented beverage consisting of black tea and sugar (from various sources, including cane sugar, fruit or honey) that's used as a functional, probiotic food. The sugar-tea solution is fermented by bacteria and yeast commonly known as a "SCOBY" (symbiotic colony of bacteria and yeast).
Sounds interesting doesn't it? This probiotic drink is taking the beverage market by storm, with its plethora of health benefits and sparkling fizz, it really is a great alternative to your regular soft drink.
Why drink Kombucha?
It can be an acquired taste for some. There are some that love it, and others are jumping on the band wagon because of all the health benefits;
•Helps prevent a wide variety of diseases
•Supports a healthy gut
•May improve mental health
•Protects the lungs
•Antibacterial
•Helps manage diabetes
•Beneficial for the cardiovascular system
•Helps maintain a healthy liver
Here at Bullseye Trading, we distribute Tonicka Kombucha, which comes in 5 great tasting flavours. Traditional, Elderflower, Lemon Lime Ginger, Chai and Vanilla Kola. What our customers love most about Tonicka is that it is 100% shelf stable. Unlike many of their competitors, the team at Tonicka have used the most traditional methods to brew which allows for a 100% organic and live cultured kombucha.
Many of Bullseye's customers are carrying the Tonicka Kombucha, and if you haven't already tried it, we urge you to give it a go! If you're unsure where you can buy Tonicka from, please contact our office 8947 0945 and we will happily direct you to your closest retailer.
Reference: https://draxe.com/7-reasons-drink-kombucha-everyday/